Bierstadt Lake Photos Rocky Mountain National Park
Bierstadt Lake Photos Rocky Mountain National Park: Photographs of Bierstadt Lake at sunrise. A light layer of fog and mist can be seen floating above the waters of Bierstadt Lake on this crisp Autumn morning. Snow capped Taylor Peak, Otis Peak, Hallett Peak and Flattop Mountain can be seen reflecting upon the lake. All types of wildlife are known to frequent the lake and its shores. We witnessed a large Bull Moose slowly stroll by as he was foraging upon grasses surrounding the lake. These sunrise photos of Bierstadt Lake were taken on September 29th around 7:20am.
Bierstadt Lake Photo Photo Gallery – RMNP
Gear Used to Photograph Bierstadt Lake Rocky Mountain National Park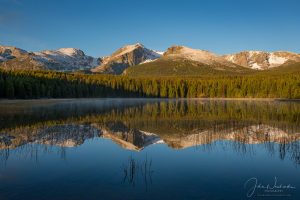 The following camera gear was used in the Colorado Landscape Photography of Bierstadt Lake at Rocky Mountain National Park:
a Nikon D850 with Kirk Arca Swiss Bracket,
a Nikon D810 with MD12 Battery Grip,
F-Stop Gear Aloe Green Tilopa Back Pack (with large Pro ICU),
the Nikkor 24-70mm, f/2.8,
a Gitzo CF6X Mountaineer 2 tripod (GT2530),
with a Really Right Stuff BH-40 LR Ballhead,
The 7:13am morning exposures for the first light at Bierstadt Lake averaged between 1/4 second and 1/10 second at f/8 and f/11. We used the Nikon D850's and D810's native ISO of of 64. Some of these images were created by combining 5 exposures at one full stop apart in Adobe Lightroom. This HDR process was done in order to capture the high dynamic range of the early morning light. The very wide panoramic photos were created by stitching 14 vertical images together in Adobe Lightroom CC.
Looking for beautiful pictures of Colorado to adorn the walls of your home, office or to give as a gift? Need photographic prints for a Building Lobby or Corporate Foyer? Please click on the button below to learn more about ordering prints of our Colorado photographs for your home, lobby or office. Click on the button below to have your favorite Bierstadt Lake photograph printed into wall art. We have a wide variety of archival media to choose from along with several custom high quality frame and mat options.