Photos of Boulder Brook Rocky Mountain National Park Colorado
Photos of Boulder Brook Rocky Mountain National Park Colorado. At sunrise we were blessed with calm winds as we photographed mirror reflections of snow capped mountains upon Bierstadt Lake. As we headed back down the trail we were presented with seeping vistas of fall colors of the Bierstadt Moraine. Our next stop was short hike to the Boulder Brook area. Golden leaves from aspen trees and green moss line this bubbling Brook that looks as if it could be found in the wet Pacific Northwest. These photos of Boulder Brook were taken on September 29th between 10:21am and 10:54am.
Boulder Brook Photo Photo Gallery – Rocky Mountain National Park
Gear Used to Photograph Boulder Brook in Rocky Mountain National Park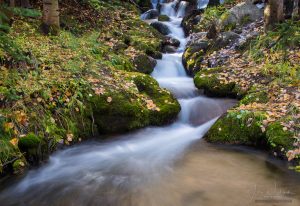 The following camera gear was used in the Landscape Photography of Boulder Brook at Rocky Mountain National Park:
a Nikon D810 with MD12 Battery Grip & Really Right Stuff L-Bracket,
F-Stop Gear Aloe Green Tilopa Back Pack (with large Pro ICU),
the Nikkor 24-70mm, f/2.8,
with a B+W Circular Polarizer Filter,
a Gitzo CF6X Mountaineer 2 tripod (GT2530),
with a Really Right Stuff BH-40 LR Ballhead,
The 10:38am morning exposures of Boulder Brook averaged between 1/4 second and 3 seconds at f/14 and f/16. We found that the texture of the water in Boulder Brook looked best at around 1/4 to 1/2 of a second. When exposing for one full second the water took on a very silky appearance. We used an ISO of 64 to 400 in order to keep the exposures at the desired shutter speed of one quarter to one second. The heavy canopy of the forest as well as the intermittent cloud cover helped provide the overcast lighting necessary for the longer exposures.
Looking for beautiful pictures of Colorado to adorn the walls of your home, office or to give as a gift? Need photographic prints for a Building Lobby or Corporate Foyer? Please click on the button below to learn more about ordering prints of our Colorado photographs for your home, lobby or office. Click on the button below to have your favorite Bierstadt Lake photograph printed into wall art. We have a wide variety of archival media to choose from along with several custom high quality frame and mat options.