Photos of The Loch & Loch Vale Rocky Mountain National Park
Photos of The Loch and Loch Vale Rocky Mountain National Park. These photos are witness to a rare phenomenon, sunrise on The Loch with the entire lake smooth as glass. The pictures on this page include The Loch, with Mt. Taylor and the Cathedral Wall as clouds drift over the scene. This beautiful subalpine lake is located at 10,190 feet with 13,153-foot Taylor Peak dominating the view. The Loch is a 2.9 mile hike along the Loch Vale Trail from the Glacier Gorge Trailhead parking lot. You can expect your hike to take 1.5 to 2 hours as it increases 1,000 feet in elevation from the trailhead. We arrived at the parking lot at 4:15am and with a brisk pace we found our prime location around 5:45am. Our images of the lake with glassy water were captured starting at 5:55am and ended at about 6:30am. As the wind increased causing ripples in the water, we moved to area more protected from the wind. The final images in the Loch Vale were taken around 7:27 am.
The Loch & Loch Vale Rocky Mountain National Park Photo Gallery
Plotagraph Video of The Loch & Loch Vale Rocky Mountain National Park
The video located above was created using a special technology. It utilizes a still photograph and creates animated vectors within the image file. The resulting video file is called a Plotagraph. This is similar to a Cinemagraph but uses one still image vs. using native video footage to create the final result. This video can also viewed on the home page of our website.
Gear Used to Photograph The Loch & Loch Vale Rocky Mountain National Park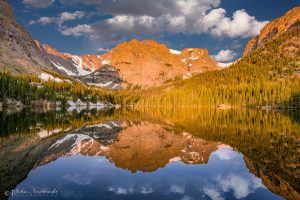 The following camera gear was used in the Colorado Landscape Photography of The Loch & Loch Vale at Rocky Mountain National Park:
a Nikon D810 with MD12 Battery Grip,
the Nikkor 14-24mm, f/2.8,
the Nikkor 24-70mm, f/2.8,
a Gitzo CF6X Mountaineer 2 tripod (GT2530),
with a Really Right Stuff BH-40 LR Ballhead,
The 6:00am morning exposures for the first light at The Loch averaged between 1/20 second and 1 second at f/11. We used the Nikon D810's native ISO of of 64. The Alpine Lake images with the Cathedral Wall were taken with the Nikkor 14-24mm and the Nikkor 24-70mm f/2.8 lenses. Some of these images were created by combining 5 exposures at one full stop apart in Adobe Lightroom. This HDR process was done in order to capture the high dynamic range of the early morning light.
Looking for beautiful pictures of Colorado to adorn the walls of your home, office or to give as a gift? Need photographic prints for a Building Lobby or Corporate Foyer? Please click on the button below to learn more about ordering prints of our Colorado photographs for your home, lobby or office.