Colorado Rocky Mountain Airshow Photos Online
Colorado Rocky Mountain Airshow Photos
We have always enjoyed photographing the Airshow at the Rocky Mountain Metropolitan Airport. This event is not held at the Rocky Mountain Metropolitan Airport often. There are definitely more photo opportunities at this Airshow. This is due the wider range of participants. As you will see by the list below, you can find everything from Vintage Military WWII air planes (American, British & Russian) to more modern Military Transport Planes and Jet Aircraft.
The Rocky Mountain Airshow is returning to the Rocky Mountain Metropolitan Airport on August 14-16. The Rocky Mountain Metro Airport (KBJC) is located at 11755 Airport Way in Broomfield, Colorado. Rocky Mountain Metropolitan Airport is owned and operated by Jefferson County, Colorado.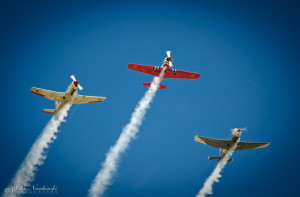 Located below is a brief overview of the show and a list of aircraft scheduled to be on site and on the ramp. This is a rare opportunity to photograph some of the finest Vintage and Modern aircraft.
The CAF Red Tail Squadron
The CAF Red Tail Squadron will be joining the event on August 14-16. Also come out to see the Tuskegee Red Tail Mustang. Visit the Red Tail website for extra details about the traveling exhibit.
F-16 Demo and Heritage Team
The F-16 Demo and Heritage Team are scheduled to perform at the Airshow. This will include the Heritage Foundation P-51 Mustang. The Air Combat Command F-16 Demonstration Team at Shaw AFB, SC performs precision aerial maneuvers to demonstrate the unique capabilities by one of the Air Force's premier multi-role fighters, the F-16 Fighting Falcon. The team also teams up with Air Force Heritage flight exhibiting the professional qualities the Air Force develops in the people who fly, maintain and support these aircraft.
Below is a list of aircraft scheduled to be at this years' show.
C-1A Trader
C-130 Hercules
USAFA Glider Team
A-26 Intruder
North American P-51D
British Aerospace Jet Provost MKIII
Nanchang CJ6-A
Yakolev Yak-52
North American NA-50/P-64
North American T-33
IAR 823
North American T-6
Stars & Stripes Rocket
Vans RV-6
North American T-28
Stearman and Pitts
Beechcraft Staggerwing
and more…
We hope to see you there. Please come back soon as we plan to post more Colorado Rocky Mountain Airshow Photos (from past and future events).
Looking for beautiful pictures of Colorado to adorn the walls of your home, office or to give as a gift? Need photographic prints for a Building Lobby or Corporate Foyer? Please click on the button below to learn more about ordering prints of our Colorado photographs for your home, lobby or office.